This year 2017 we have prepared a selection of great Christmas menus in restaurant and hotels in Bilbao, some of them include cotillions, to be able to celebrate these dates so marked without worries and enjoy them all over the top with friends or family. In this selection we will find gastronomic proposals for all tastes and pockets. Little by little we will receive new menus for you to spend the best possible surroundings to a table in Bilbao and surroundings.  We!
★ Gran Hotel Domine Bilbao the head chef of Gran Hotel Domine and disciple of some of Spain's best cooks, Abel Corral, will serve an exquisite dinner starring the best products of the cuisine of the Basque Country. Its culinary proposal offers a new and current perspective of Basque gastronomy prepared with a personal style and from the search for flavors, textures and new nuances.
Revised classics and new contrasts for our New Year's Eve dinner the Beltz Restaurant team prepares for this New Year's Eve an interesting combination of the local tradition product and the innovative character of young chef Abel Corral. Based on ingredients of the best quality, the menu will be accompanied by a wonderful pairing that will turn the New Year's Eve into a unique culinary event.
A staging after the traditional toast with champagne will start a lively party to the rhythm of the sounds of a live DJ. Those who want a more relaxed atmosphere will find their particular oasis in the new Sixty-One lobby-bar, the perfect choice to savor an elaborate cocktail in a sophisticated and cozy design space.
It is an exceptional plan to receive the new Year in the icon of the contemporary luxury of Bilbao
Gran Hotel Domine, 5 stars in front of the Guggenheim Museum.
Grand Hotel Domine. Beltz Restaurant
Alameda de Mazarredo, 61 48009 Bilbao
Tel. + 34 944 253 300
Terrace of the Hotel Domine
Welcome to New Year's Eve aperitif.
and later dinner served by its Beltz restaurant in the Hotel lounges
★ Nerua Guggenheim Bilbao offers its diners an exclusive New Year's Eve dinner for those who want to welcome a special one as it will be 2017, enjoying the essential and pure cuisine of Josen Alija, awarded with a Michelin star and three suns of the Repsol Guide. Nerua Guggenheim Bilbao has reached the 55 post of the prestigious restaurant list of the 100 best restaurants in the world this year.
In this unique space we will enjoy n special menu of 14 products with a selection of dishes from your autumn-winter menu, in which the products of the environment are honored, accompanied by a ready-made pairing for the occasion. The price of the New Year's Eve dinner at Nerua Guggenheim Bilbao will be €240 (VAT included).
You can book on the 94 400 04 30 phone.
New Year's Eve menu
The evening will begin at 20:30 with a selection of appetizers from our kitchen.
Dinner will be served at 21:00.
Menu
Oyster, toasted butter and capers
Sautéed leeks and shrimps, grapes and fish bottom
Norway lobster, pollen sabayon, curry and mint
artichokes, olives and anchovy bottom
Prawn consommé, coconut and curry cream
' Sopako ' bread soup, black sauce and caviar
Tatin of turnip, marrow and fenugreek
Cod Kokotxa, grilled crab and corals
Fried hake with boiled spinach
Duck Foie, carrots and makilgoxo
Pig's ear, sautéed herbs and garlic
Painted, mashed potato and txoriceros juice
Egg Flan, milk and orange blossom
Cassava cake with banana ice cream
Grapes and Champagne
Turrones
Coffee
Pairing
recareded terrers Brut Nature great Reserva d. O Cava
Sacabeira D.O. Rias Baixas
Itsasmendi Artizar D. or Bizkaiko Txakolina
Lopez de Heredia Tondonia red Reserva d. O Rioja
Pierre Baillette Le Village 1er Cru a.o. C Champagne
Price
€240 (I.V.A. and pairing included)
★ If this Christmas you want to savor a traditional food, made with much mime, authentic and of great flavor, do not miss the restaurant Nura Bilbao, located in the old part of Bilbao. A place where you enjoy not only the food, also the works of painters, artists and designers who welcome your walls.  On December 25th we will offer a special Christmas menu with the best of your cuisine. We can book by mail [email protected] or WhatsApp 609 76 18 27. 
Restaurant Nura
Christmas Menu
Snack
Welcome Cocktail
Inbound
Vegetables toast, crumbled duck
and Romescu Foam
Creppe stuffed with crab, Langositno
and scallop with reduced juice
Main
Hake on caramelized lombard bed
and white asparagus fine cream
Lemon sorbet with gin
Timbale of tail and baking potato
Dessert
Nougat Mousse with Brownie cookie
Coffee or infusion and shot
Winery
Crianza Sancho Garcés, Blanco Morta Verdejo,
Pink, Moscato, Lambrusco, beer or soda. (1botella 2pax)
€42 I.V. A included
New Year's Eve menu
Snack
Welcome Cocktail
Inbound
Quail Salad Partridge at home with their vegetables.
Foie Fardelito and mushrooms on roasted apple compote.
Menorcan lobster stew.
Main
Turbot with artichoke purée and garlic emulsion to the txakolí.
Lemon sorbet with gin
Menorca-style lamb Carré and caramelized shallots.
Dessert
Gold-plated chocolate ingot on cumble and custard from Maranja.
Coffee or tea, glass of cava and grapes
Winery
Crianza Sancho Garcés, Blanco verdejo Íñigo Medrano, Txakolí Señorío de Astobiza,
Rosé, Lambrusco, beer or soda. (1botella 2pax)
€65 I.V. A included
Note: We do not offer children's menu.
★ Restaurante Aspaldiko is a unique restaurant in Euskadi not only for its fantastic gastronomic proposal of tradition and vanguard but also for its solera. It is located in a historic Vizcaíno village of Loiu very close to Bilbao airport. Qualified as an artistic historical monument, it is one of the last specimens of the traditional Basque architecture built exclusively of wood with different dining rooms and capacity for 300 people. Outside the restaurant we can see spectacular peacocks moving with total freedom for the magnificent gardens and terraces that we can enjoy all year. This extraordinary restaurant is run by Javier Villar. Here are two of their Pre-Christmas menus, that is to say, only until the 24th of December, because from December 24th to January 2nd even the restaurant will remain closed
Christmas Tasting MENU
ASPALDIKO
 Until the 24th of December,
  Because from December 24th to January 2nd, even
The restaurant will remain closed
Crab salad with balsamic vinaigrette
Hake in tempura with tomato marmalade and olive esferificacion
Mushroom Risotto (Botelus edulis)
Baked monkfish with sautéed vegetables
Lamb stuffed with foie gras  
Champagne sorbet
Puff pastry stuffed with nougat mousse
58.00 + 10% VAT
(This menu will be served at full table, if any of the dishes is not to your liking can be modified, beverages not included)
Tasting MENU BASERRI
ASPALDIKO
 Until the 24th of December,
  Because from December 24th to January 2nd, even
The restaurant will remain closed

Pumpkin cream with prawns
Crispy stuffed cod with leek sauce
Grilled Foie Gras with peach cream and Pedro Ximenez reduction
To choose
Baked hake with Norway lobster and scallops and scampi sauce  
Grilled squid with onion in two textures
Grilled sirloin steak with glazed onion and port sauce
Sirloin steak with piquillo purée and cheese parmentier
Coffee and chocolate Bavorise with mango ice cream
€39.00 + 10% VAT
(This menu will be served at full table, drink not included)            
★ The Carlton Hotel has prepared in exclusive different menus to celebrate Christmas and New Year's Eve all over the top. Price: Between €47 and €75 we will find different proposals in their Christmas menus shown below. You can perform tusreservas on the phone 94 416 22 00.
★
Bistro Guggenhei
m
is a restaurant with an avant-garde space designed by Frank Gehry where we will be able to enjoy a gastronomic experience thanks to his menu, his tasting menus or his Express menu. It is a unique space that puts in value a style of free cooking, linked to the roots, to the memory of those dishes that are part of a culture and that need to be adapted to a vanguard context, without losing flavors or textures.
Bookings: 944 239 333
At 20:30, the evening will begin with a glass of champagne to greet guests.
Then at 21:00, dinner will be served with a special menu prepared for the occasion.
Menu
Lobster salad with its coral vinaigrette
Scallops with mushroom ravioli and mushroom juice with truffles
Hake, crab to Donostia and PiL PiL
Beef sirloin with bacon terrine and mashed dried
Caramelized French toast in frying pan with milk-coffee ice cream
Coffee and infusion
Petit Fours
12 grapes
To accompany the dinner we will have a selection of the best wines from our Winery
Itsasmendi 7 D.O. Bizkaiko Txakolina
Ysios Private collection Ed. Special Magnum D.O. Rioja
Champagne Perrier Jouet
After the grapes, the party can be continued until 4:00 A.M.
2 combined per person
Re-Cena at 02:00
Music and animation by DJs
Price: €165 (I.V.A. Included)
★ The restaurant Tamarises, located on the first floor, is the flagship restaurant of the prestigious Chef Javier Hoista. In this space we will enjoy a product-market cuisine, with the flavors of always but a little renewed and creative. If you are thinking of celebrating a dinner or business lunch, a family reunion, cocktail or some important event this Christmas we recommend you take a look at the menus that have prepared especially for the occasion. Its large terrace has stunning views of the Ereaga Beach, sure to surprise your guests, is a pleasure for all the senses. If you want to book you can do it by phone 944 910 544.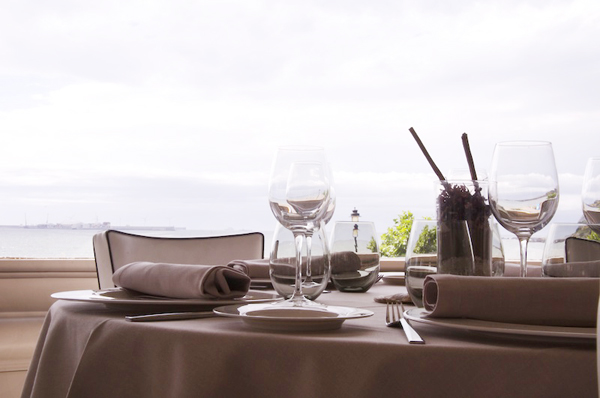 Special Menus
For designated and Christmas dates
EREAGA Groups Menu
Starters to share
Foie gras terrine with raisin bread and walnuts
Individual incoming
Warm goat cheese salad and vegetable millefeuille
Fish
Roasted hake loin with wuakame seaweed
Meat
Veal cheeks stewed to the old
Dessert
Caramelized toast in orange jam and caramel ice cream
Coffee, water, txakoli (or Verdejo) and Red Rioja Crianza included
€45.00 taxes not included
ARRIGUNAGA Groups Menu
Starters to share
Foie gras terrine with raisin bread and walnuts
Acorn-fed Iberian ham
Crab Stuffed Peppers
Individual incoming
Salad slices of cod and piperade
Fish
Scorpions on Mushroom Baking
Meat
Ox laminate with potato millefeuille, cheese, bacon
Dessert
Caramelized toast in orange jam and caramel ice cream
Coffee, water, txakolí (or Verdejo) and Red Rioja Crianza included
€55.00 taxes not included
Groups Menu LAS Arenas
Starters to share
Acorn-fed Iberian ham 
Individual incoming cold
Prawn Salad with Vegetables 
Hot individual Incoming
Poached egg with mushrooms and foie 
Fish
Grilled monkfish with Zalla red onion 
Meat
Grilled sirloin steak with mushrooms and truffle aroma 
Dessert
Chocolate cake with yogurt ice cream
Coffee, water, txakoli (or Verdejo) and Red Rioja Crianza included
€65.00 taxes not included
AZKORRI Groups Menu
Starters to share
Foie gras terrine with raisin bread and walnuts
Acorn-fed Iberian ham
Grilled prawns
Individual starters
Lobster salad with its coral sauce
Fish
Roasted turbot with baking potato
Meat
Grilled sirloin steak with mushrooms and truffle aroma
Dessert
Caramelized toast in orange jam and caramel ice cream
Coffee, water, txakoli (or Verdejo) and Red Rioja Crianza included
€75.00 taxes not included
★ Sarriena House Restaurant in its beautiful retaurante recently redecorated we the Sarriena group surprises us with different Christmas menus to enjoy these fietas in the company of our friends and loved ones in an idyllic setting, next to the university of the Basque Country. It has different dining rooms and an outdoor area to enjoy these festivities around a product and grilled cuisine. Unbeatable.
has 5 Christmas menus + Children's Menu
Menu prices: €20 (Infantil) €48.50-€57.50-€82.50 (adults)
Bookings: 944 632 487
 
★ In the Hotel Conde Duque, the restaurant Campo Volantín is a gastronomic reference space in Bilbao where you will find quality products at a good price, with MIMO in the presentation and professional attention. Located on the Paseo del Campo Volantín of Bilbao next to the estuary in front of the Calatrava Bridge, Campo Volantín Restaurant offers different gastronomic proposals for these so marked dates.
3 Christmas Menus-Prices: €39-€48-€69
Bookings: 944 13 23 63
★ Hotel NH Collecions Villa de Bilbao presents several proposals for these upcoming Christmas parties. In one of its nice dining rooms we will be able to taste its Degustarción menu of Christmas and a children's menu very suitable for the children of the House. The fully refurbished Hotel has spacious and well-lit spaces. It has an excellent location on Gran via Bilbao.  
★ Hotel Bahia de Plencia The establishment opened its doors recently thanks to the initiative of the entrepreneurs of the jewellery sector Jon Rodriguez and Inma Allende who have recovered the building, turning it into the fashionable place for visitors and Inhabitants of this beautiful seaside village one of the motors of tourist attraction of our coast. It has a magnificent own restaurant with a careful product cuisine that is one of the strengths of the establishment.