In Bilbao we are good to eat, and a dish that excites us is the burger. We are lovers of the meat juicy, tasty, tender, at its point… And we love to try it with a thousand different combinations! So you can not miss this route in which you will find 12 hamburgers in Bilbao for 12 months, one for each month of the year, which has classic options, gourmet for the most daring and also for vegetarians and vegans. Delicious!
★ Sanwicoffee is a cafeteria located under the Iberdrola Tower where you will find delicious gourmet burgers, very different from all that you have tasted in Bilbao. We recommend the Roma burger with goat cheese, caramelized onion, bacon and sautéed mushrooms; Brussels based on marinated chicken, gouda, roasted tomatoes; Or the incredible London of duck ham, foie gras, raclette cheese. You will find many other options such as Tandori, Caprese, Red Tuna… If you are a lover of this dish and you feel like trying something different you will love it. In C/Ramon rubial 4 (Euskadi square).
★ The American Crazy Horse pub could not be missed on this list, and many come from afar to try their impressive XXL burgers, well-mounted and with varieties of the most appetizing. They are the size of a dish so we recommend you ask to share, but surely some daring can with it. Its meat is of first quality, tender, juicy and of impressive flavor. If you want to enjoy even more of the experience we recommend you to accompany it with a portion of chips or nachos, you will repeat for sure! In Avda. Of the universities, 5.
★ The bar Code deserves a visit for the great variety and quality of its burgers. Your menu is most suggestive: veal burger with mezclum, roasted tomato, poached egg and caramelized onion; Wagyu with arugula, grilled zucchini, grated apple and goat cheese; Chicken with mushrooms, peppers and idiazabal… and its special hamburger Code, with focaccia bread, lettuce, spread tomato, veal, fried green pepper and Iberian shoulder. If you do the wedding water just by reading it, wait to try them, they are delicious! In C/Juan Antonio Zunzunegi 7. 
★ T1 is a bar-burger in Berango where they embroider the burgers. The star of the menu is the Kobe beef burgers, although it also offers Black Angus burgers, a kind of Scottish veal. It has two choices of bread to choose from; The pipe or the smooth, and its interior is accompanied by German cheddar cheese, live lettuce, tomato and poached onion. A dish well done, simple and juicy, served with salad, homemade potatoes and different sauces of aioli, honey and mustard, and piquant, made with chili and piperade. In Kurtze-Berango, Bidebarri Bidea, 18.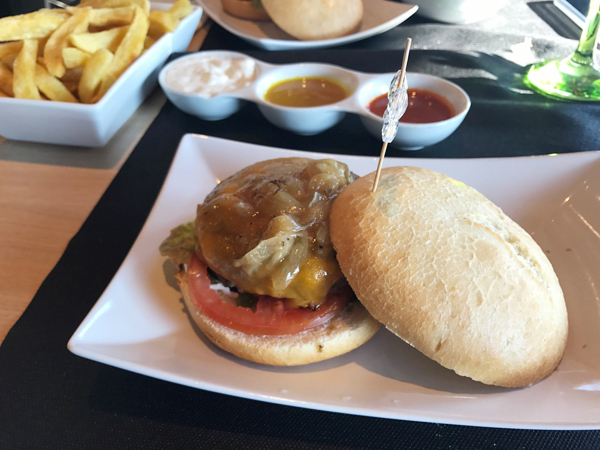 ★ Santa Rosalía is a well known restaurant in which all the beef they offer is Wuagyu Ox (Kobe), one of the most valued in the world for its good taste and healthy properties. The meat is brought every morning from its own estate in Burgos, ensuring the highest quality and freshness possible. In your menu you will find very tasty, juicy burgers with a unique texture and combinations of the most original: with cream of mushrooms; Idiazábal; Piquillo; Piperade; Partridge eggs; Guacamole; Jalapeño Chili… A hamburger that will fall in love with good meat lovers, insured. In C/Diputación 8.
★ Deluxe is a classic in Bilbao, where you will find burgers for your own elaboration. The minced meat of their burgers is of quality and always national. The client can choose from an assortment of three elaboration formulas: pure meat 100% ox, with a strong taste for meat lovers; Mixing meat: 70% OX-30% pork; And the bird burger, half chicken and half turkey. The bread is rustic and baked at the moment, and here comes the best, the size, as they can be found of 200g and 400g. In C/Henao, 6.
★ The Florida Cafeteria is a burger of the whole life of Bilbao. It has more than 35 years and its burgers are famous throughout the village. The meat is made with veal leg, which are chopped and cooked to the plate. As we see, the ingredients are top quality: veal from Cantabria and Bizkaia, bacon from Asturias and German cheese. The size of the hamburger is 110g, the bread is the classic burger, and certainly your personal brand: the fried onion. Condiments like the handmade onion rings, the french fries or the American sauce made right there, give a very special touch to the burger. And if you still want more we recommend you try their incomparable pancakes. At c/Rodríguez Arias, 28.
★ The Rogue Ember is one of the youngest locals, but you will certainly be surprised. Their meat is from chopped old cow and to which they add nothing else, just salt on top of the grill. They have options for vegetarians, and certainly their star dishes are the donut burger, with donut bread instead of traditional; And the Porky pig, with pork cooked for hours. The size? 160 grams of juicy meat. We advise you to be prepared, because sure, you will get stained. In C/Elkano, 12.
★ Pintxame is a restaurant in Santutxu that offers very original, author burgers that come out of the typical tomato, bacon and egg of a lifetime. All the meat of their burgers is ox 100%, and also have vegan burgers. The size of the meat portion is 200g. Do not miss the Hulk and Pintxame Star Ox with Boletus and foie gras, lettuce, bacon, onion confit and a spoonful of boletus sauce. In C/John of the Thing 7.
★ In Muga we will find delicious burgers, and it is the ideal choice for vegans and vegetarians. They work with local and nearby products, and it has burgers of meat, tofu, seitan, soy or falafel. The rustic bread is accompanied by classic condiments such as lettuce, tomatoes and more unusual as crispy vegetables or vegetable tempura. In C/María Muñoz, 8.
★ K2 is a pub where you will find a great variety of delicious burgers. They are quite large, and as soon as we give the first bite we'll savor an exquisite and remarkably homemade meat. We recommend you try your falafel burger, a vegetable burger made with chickpeas, parsley, onion, garlic and cilantro, which also has lettuce, tomato and bread of the day. And how not, a special sauce of rich-rich garlic mayonnaise. They also have mini burgers on their pintxos bar. In C/Somera, 10.